Why Do I Need X-rays?
Written by Admin | January 11, 2017 | News
Why Do I Need Routine X-rays?
We often receive the question, "Doc, why do I need x-rays? Nothing hurts!"  Hopefully this blog post will help you understand the value of routine diagnostic radiographs on a regular basis.
The American Dental Association explains that dentists use X-rays to help diagnose damage and disease that is not visible during a clinical dental examination.  Here are some photos to help explain what can and cannot be seen with and without radiographic imaging.  As you can see, there are many "hidden" areas below fillings, in between teeth and below the gumline where we are unable to reliably diagnose problems without the help of xrays.
How often should X-rays be done? The answer depends on your medical and dental history and the current condition of your mouth. Some people may need X-rays as often as every six months. People who visit the dentist regularly and have excellent oral health may need X-rays every year or two.  Your dentist will help you decide what is best for your specific condition.
Who needs more frequent radiographs?
Children and teenagers — Children and teens who have a history of many cavities may need X-rays every six months or every year, depending on age. So may those who have a high risk of decay for other reasons. X-rays also help to keep track of tooth development.
Adults with many fillings, crowns, bridges or other restorations — X-rays help the dentist find decay beneath your fillings and crowns or in new places.
People with periodontal (gum) disease — X-rays can reveal signs of bone loss. If this has happened, then you may need periodontal (gum) surgery.
People with dry mouth, also called xerostomia —Saliva helps keep your mouth and teeth healthy by regulating the acid levels (pH) in the mouth. In a dry mouth, the pH decreases. This causes the minerals in the teeth to break down, resulting in more cavities. Many medicines can cause dry mouth. It also can be a result of cancer treatment or a long-term disease.
Smokers — Smoking increases the risk of bone loss around the teeth and periodontal disease.
Users of chewing tobacco — Chewing tobacco is sweetened with sugars and can lead to more cavities.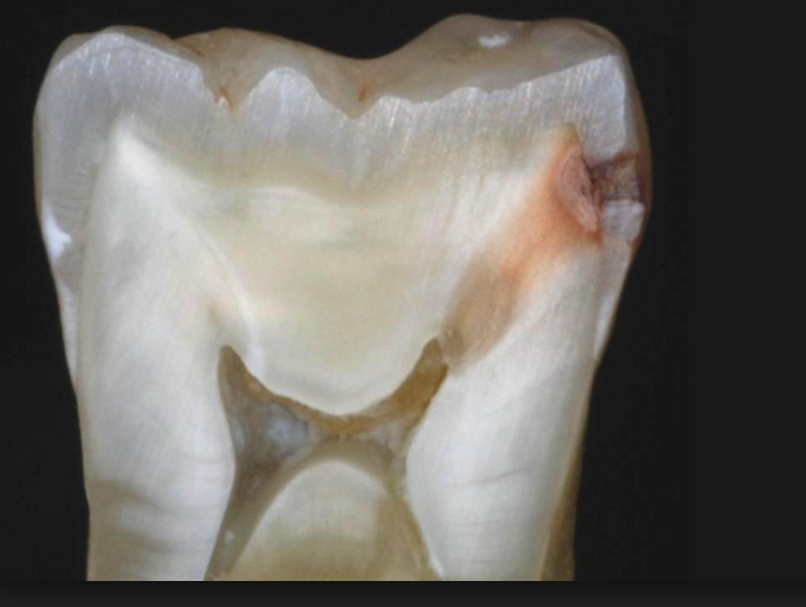 This is a cross-section of a molar tooth with an "in-between the teeth" cavity.  As you can see, the biting surface of the tooth shows no visible decay.  With a radiograph, we are able to spot this area early-on and restore it to normal function before it gets too big.  The earlier we diagnose, the easier, and cheaper, cavities are to properly treat.  If this cavity grows large, and reaches the nerve of the tooth, it will need more extensive (and costly) restoration such as root canal therapy and a crown.
Please feel free to call our office if you have any further questions 608-846-3948!